Compact Stormwater Detention & Retention
The APD StormSlim® system is the perfect above ground tank option for compact spaces!
StormSlim® is an innovative stormwater detention and retention system designed to manage your rainwater and stormwater when outdoor space is at a premium. StormSlim®'s compact dimensions and height means you can maximise the use of the outdoor space available without the visual impact of unsightly tanks. Designed to effortlessly and elegantly fit in with the exterior of your home whether
retrofitting or a new build.
Designed to suit your home
APD's StormSlim® tanks come in a variety of designer colours to perfectly match or complement your home. Whether you choose to match the tank colour to your house or fence, or opt for a bright pop of colour as a design feature, there's a colour option to suit.
Concealed and out of sight
Prefer to conceal your tank? APD's StormSlim® tanks can be housed in cladding or fencing by simply fixing framework to the galvanised support frames. Ask us about our optional framing kit to allow concealing the ends of the tank. The 2000, 3000, and 5000 litre StormSlim® tanks also come with a recessed end to help conceal the pipework.
Choose from a range of colours!
Colours in stock: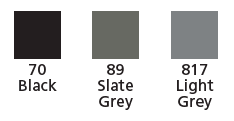 Additional colours are available, made to order. Standard lead times and charges apply. Please contact us to find out more.
Features
New modular sizing minimises foot print.
Multiple tanks sizes to suit any design, including 1000, 2000, 3000, and 5000 litre options.
PS1 for engineered residential slab designs available.
All tanks are 1800mm high to match standard fence requirements.
Manufactured to AS/NZS 4766:2020 from water tank grade PE material suitable for potable water.
Designed and made in New Zealand for local conditions.
Compatible with APD RainWorx systems and pumps.
Engineered to meet the seismic requirements of Zone 1, soil type D.